The cloud is today's biggest digital transformation platform. The rapid adoption of continually evolving technologies, tools and methodologies is driving innovation in all organizations regardless of their size or industry.
StorEasy is making available to NetApp customers next generation Hybrid Cloud services for the protection and archiving of data. SaaS services that integrate natively with the ONTAP operating system without changing the way users or applications work in existing on-premise infrastructure. StorEasy's Hybrid Cloud model reduces the barriers to transformation by helping companies unify their on-premise and cloud data, using dynamically managed storage resources depending on the firm's specific needs.
Transparent and automatic data migration from NetApp platform to the Cloud
Using our exclusive technology files migrated to the cloud continue to appear virtually on the NetApp platform even if actually stored and archived securely in the StorEasy Cloud. Whenever an application or a user requests a migrated file, it appears in real time in its original position.
Native SaaS services for integration with NetApp's ONTAP operating system
SaaS services developed by StorEasy for the NetApp platform are built on an extremely secure, resilient and economical environment with a very high storage capacity. Data migrated from the NetApp platform, depending on the SaaS service you choose, can be archived in a secure object storage platform, or near-online in a hybrid architecture implementing multi-tier storage to guarantee high performance and extremely low archiving costs. A secure environment designed to safeguard the integrity of archived data for periods of up to decades.
The StorEasy Cloud Gateway for NetApp, in either the physical or virtual version, is installed on the clients' infrastructure. It takes only minutes to install with a simple network address for LAN configuration, and integration with the NetApp platform is quick using specifically developed ONTAP APIs.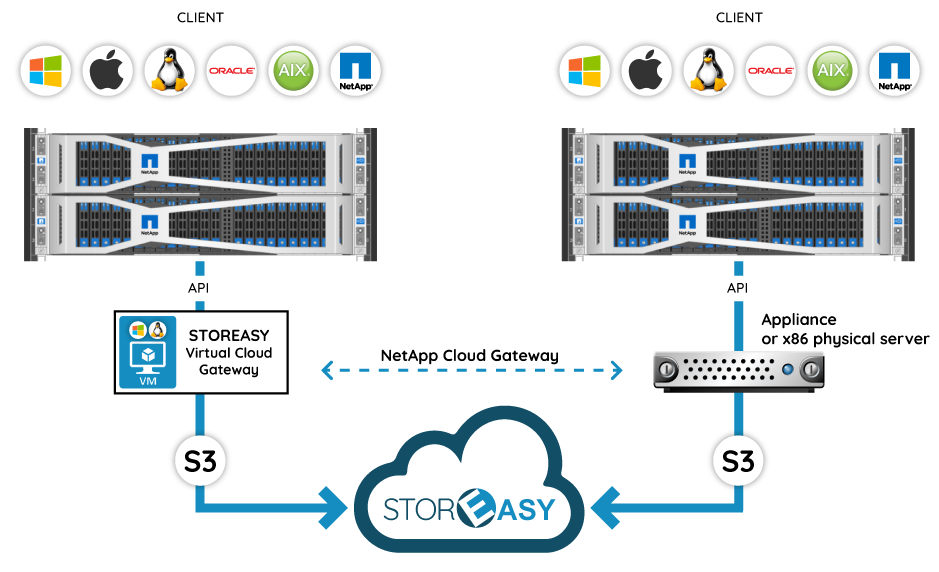 With StorEasy, costs for data migration and storage consolidation are drastically reduced
The range of SaaS services developed by StorEasy include software tools specially designed for migration and consolidation of the NetApp platform. These are extremely rapid and economical compared with the inefficient and costly methods commonly used today.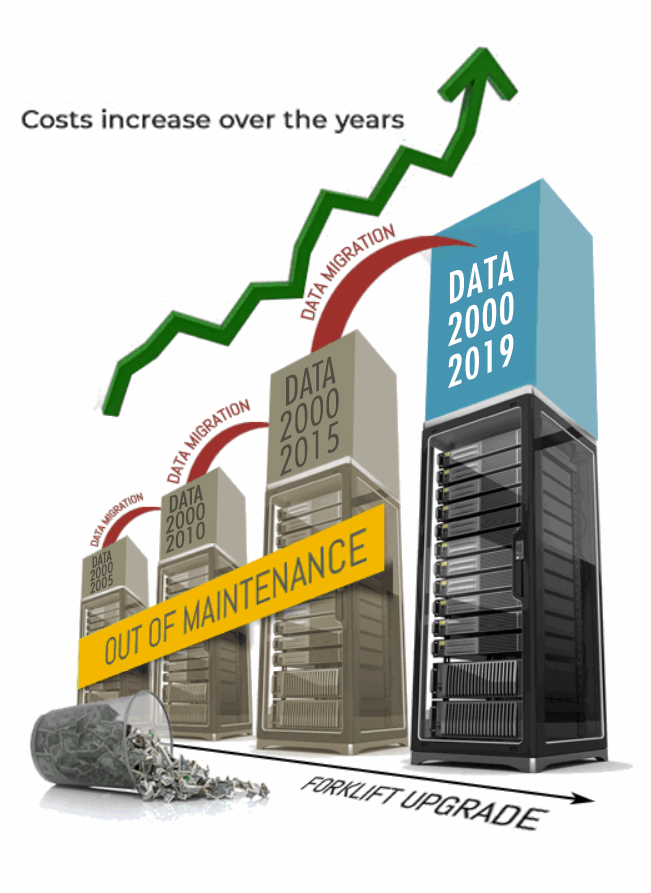 We know the lifetime of storage systems is around 4 to 5 years before they become obsolete, no longer supported by the manufacturers, or else the maintenance fees become so high that the firm is forced to replace them. But this is only one aspect of the problem. Not everyone is aware that the vast majority of storage space is wasted on inactive data, files which do not change for months and sometimes even years.
This enormous amount of data (between 50% and 80%) is migrated repeatedly over the years onto new storage devices! As can easily be imagined, this inevitably leads to exorbitant costs over the years, downtime and potential technical problems during the consolidation phases. Such an approach is hard to justify in economic terms and workload, especially for a company on a tight IT budget with increasingly limited resources.
For all these reasons StorEasy has developed SaaS services for the NetApp platform to help customers dramatically limit such costly and inefficient practices that can also present a risk for data integrity during the various stages of migration and consolidation.
Data migration and consolidation policies
Understanding the value of an organization's data is the first step to optimizing its storage infrastructure because not all information is of equal importance. Using simple policies that include a range of file properties, such as creation date, last access, file owner, size, format and last edit, you can migrate, archive and protect files on the on-premise NetApp platform to the secure StorEasy Cloud.
This not only dramatically reduces the local storage requirement as rarely accessed files or files earmarked for migration are removed and protected in the StorEasy Cloud, but also lowers the administration and management workload of technical staff.
Before buying another expensive storage system or further capacity upgrade, consult us. You might find you have no need at all!
Long-Term Archive for lasting data protection
Long-Term Archive for NetApp allows you to store unlimited quantities of data at a fraction of the cost of any other storage technology available on the market today; safeguard archived data for periods of up to decades. To manage long-term archiving for the platform NetApp, StorEasy has developed a sophisticated active archive architecture based on LTO tape technology.
The purpose of an active archive environment is to render all content online or near-online (in the case of of tape libraries) using extremely reliable and long lasting storage technologies. The hybrid architecture uses different storage tiers to ensure high performance and low operating costs compared with traditional disk-based storage systems. Tape, and in particular LTO technology, is not only economical for a second or third security copy, but also offers extraordinary reliability with an error rate 10,000 times lower than a SATA disk and guaranteed data legibility on LTO media for a period of 30 years.
The active archive solution includes data caching at the writing and reading stages. In practice, a portion of the archived data remains as a twin copy on the cache. How long the data stays in the cache is determined by policies which allow you to decide dynamically what and how much data to keep. This enables you to read the data immediately without having to access the tapes in the tape libraries. Naturally the cache must be suitably sized to keep online only the data that has to be accessed for some reason within a certain period of time. The duration of the data on the cache disks and the thresholds can be programmed dynamically. Should these be exceeded, the cache is emptied of the least accessed files (obviously all data is already archived on tape independently of what occurs in the cache).
LTO/LTFS tape technology
LTO tapes provide a secure, reliable and economic technology that can store information for a period of up to decades, an elastic memory that can be used to store unlimited quantities of data extremely securely at a fraction of the cost of any other storage technology available on the market today. LTO tapes offer an error rate 10,000 times lower than a SATA disk and guaranteed data legibility for a period of 30 years, support a million recordings and 20,000 writing cycles per tape, with an MTBF (Mean Time Between Failures) of 250,000 hours at a 100% duty cycle. Not to mention that a single LTO-8 tape offers a native capacity of 12 TB and 30 TB compressed.

Linear Tape File System (LTFS)
The increased popularity of tape-based active archive architectures is largely due to the diffusion of the ISO/IEC 20919:2016 compliant Linear Tape File System (LTFS).
The most significant feature of the LTFS format is the ability to move recorded media between different operating systems, applications and platforms, allowing you to use the tape like a traditional hard disk (standard volume with directories and subdirectories).
General Data Protection Regulation (GDPR)

StorEasy's Long-Term Archive protection is in line with the General Data Protection Regulation (GDPR) and all those applications and standards which require secure archiving for extremely long periods such as legal, accounting and administrative documents which must be archived by law for 10 years, and others for much longer periods, sometimes indefinitely.
WORM Archiving (Write-Once Read-Many)
WORM technology can archive data in non-rewritable, non-erasable format. Using this technique, recorded data can no longer be overwritten, modified and/or manipulated. The WORM protection process offered by StorEasy for long-term archiving complies with the strictest national and international regulations covering sensitive data archiving, document management, electronic record storage and log file archiving. The solution guarantees secure and lasting validity of archived data that is binding on third parties thanks to full compliance with the requisites of law.
Data at Rest Encryption for data archived on LTO media
The Long-Term Archive Service uses the Advanced Encryption Standard (AES), one of the most popular and secure cryptography algorithms on the market. AES is impregnable to attack, and it is no accident that this is the standard chosen by governments, banks and high security systems worldwide. Cryptography ensures that the LTO tapes can only be read by those who possess the correct decryption key. The data is encrypted directly on the LTO tape units, using the AES-256 key, by specialized hardware in the tape library drives.
Secure Hash Algorithm (SHA) for data integrity control
In addition to the manufacturers' guarantee of the integrity of data recorded on tape for long periods of time, StorEasy has introduced further levels of integrity control for data recorded on LTO tapes. To ensure that the archive is readable in the event of damage, wear and tear or corruption of the magnetic support, scheduled scans of the LTO media in the tape libraries are made to read the checksums introduced during the writing of each file.
The data integrity check is achieved via the hash function, an algorithm which, for an arbitrary quantity of input data, generates an output of a fixed size as a "fingerprint" of the incoming data. This operation is repeated for each archived file, and the hash created by the Secure Hash Algorithm (SHA) is stored together with the file. The hashes are recalculated and compared during the scans to check the integrity of the media. If a hash is found to be incorrect during validation, the associated file is marked "bad" and another copy of the file (offline security copy) is retrieved in real time to replace the corrupted one and restore the correct number of copies. Then a second (or third copy) of the file is made on a new media.
3-2-1 Best practice for protection against ransomware, viruses, sabotage and disaster
Despite the great attention IT organizations give to the security of their data centers, we know that a single backup copy, even if handled with scrupulous care is no longer sufficient today to ensure business continuity.
The news is full of cases of companies brought to a standstill by the inattention of technical staff, users accidentally overwriting important information or, worse still deleting whole archives by mistake, through to deliberate sabotage by ill-intentioned employees or, more recently, by cyber-attacks designed to render company data inaccessible.
Attacks by the notorious ransomware cryptolocker is unfortunately an increasingly live concern and shows no sign of diminishing. Prevention remains the most effective weapon against these challenges, so it's unsurprising that Veeam promotes 3-2-1 best practice to be reasonably certain that data protected by such consolidated procedures is secure.

The 3-2-1 rule requires three copies of the data, on two different storage platforms, if possible, using different technologies and with one copy off-site.

StorEasy further amplifies this best practice by adding a further level of security by making one or more copies of the data physically off-line and archived on secure LTO tapes.
For further technical and architectural information on the StorEasy's long-term archive infrastructure
see the page